about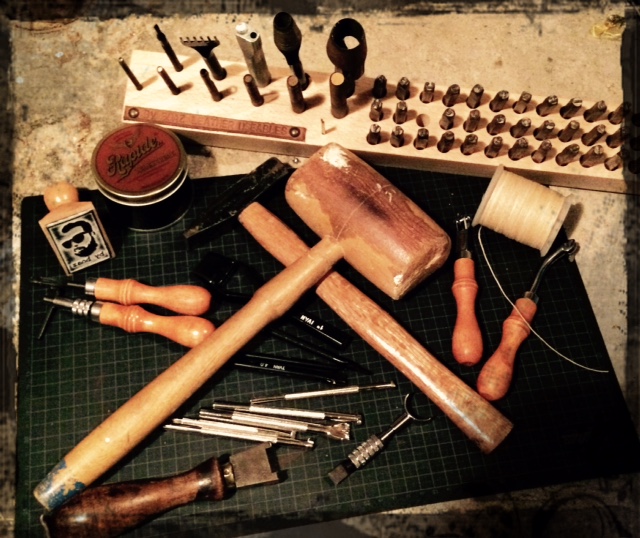 Rough and tough. I don't know a more beautifull material than leather. I started out fooling around and being creative with used leather products by making it into new unique leathergoods. Just for fun. Giving stuff with a history a new future. Beaten down horsesaddles, furniture, old messengerbags or wornout coats converted into leathergoods like wallets, phonesleeves, bags, bracelets, knifesheats and what not.. Nowadays i only use natural vegtable tanned leather so i can start out from scratch. Out of this great material i create all kinds of useables wich i can dye in multiple shades of brown or black. Or even better, virgin natural leather so the patina will give your product a unique, determined by use, look!
What i love to do most is make a custom product specially designed together with my customer and made for his or her trade. Knifesheaths for cooks, aprons for bbq-pitmasters, guitarstrap for musicians, etc.. Ofcourse all by hand and made to last a lifetime!
Ruw. Robuust. Ruig. Voor mij bestaat er geen mooier materiaal dan leer. By Boaz is begonnen met hergebruik van afgedankte lederen voorwerpen. Lederen gebruiksvoorwerpen met 'n geschiedenis gaf ik daarmee weer toekomst. Van afgeschreven paardenzadels, oude posttassen en gedragen damesjassen maakte ik 'Leather Useables' zoals portemonnees, armbanden, tassen en hoesjes voor brillen, bijlen en baardkammen. Tegenwoordig gebruik ik voornamelijk plantaardig gelooid naturel leer om vanuit niets naar wens stoere producten te maken. Handgestikt, handgesneden en eigenhandig gekleurd in de stoerste tinten bruin, zwart of naturel.
Het mooist vind ik het maken van een product volledig afgestemt op de functie en de gebruiker. Messenfoedraal voor de kok, scharenhoes voor de kapper, portfolio voor de artiest, enz. In overleg creeeren we een custom product, volledig naar wens, wat een leven meegaat. En dit alles met de hand, op ambachtelijke wijze!